Vive la révolution!
Chalwa Heigl is the captain of the Clouberry ship. With a whole lot of marketing expertise on board, she and her crew are setting sail on a voyage to break new ground and start a revolution in the corporate gifting world. She also bakes a mean guglhupf, but that's a whole other story …
Interview by Rowan Sewell
Chalwa, Clouberry's stated intention is to "revolutionize corporate gifting". Is a revolution really necessary?
I'd say it's high time! This corner of the advertising sector has been more or less the same for years and it's now totally out of step with the times. Advertising has changed so much in the last couple of decades – so it's time to shake things up a bit.
Just because corporate gifts have always been done a certain way, doesn't mean they shouldn't be called into question – it means they should. That's why we got our heads together to come up with a better way.
Which is?
Helping companies find gifts that are meaningful, innovative and fresh. Clouberry is all about thinking outside the box and offering businesses a new perspective on what's possible in corporate gifting.
Our scouting work is pretty unique within the industry. The international startup scene is an undiscovered treasure trove of awesome products, most of which are still virtually unknown. We scour this scene for the best items to include in our Clouberry Favourites range. This way, all companies have to do is browse the website and find a gift they love.
But something I'm even more excited about is our concept work. Companies can come to us with an idea or even just the wish to organize a giveaway or gifting campaign, and we take care of the rest.
And how does that work exactly?
Companies typically ask us for ideas for innovative or sustainable corporate gifts or giveaway items. We look at the brand, its image and what it's already doing with its CRM work. We then come back to the company with an integrated full-service concept of how it can align its corporate gift strategy with its marketing claims and its desired image. We also recommend ways of linking this to additional channels, like social media. This approach means that companies actually get a gift that fits what they're trying to do. After all, you can't really claim to be an innovative and sustainable company if you're giving partners wine for Christmas and sending cheap plastic pens to customers …
That sounds like gifting anno 1990.
Tell me about it! But it's still so ubiquitous, wherever you look. That's why we're blazing a new trail – modern business is crying out for it. Indeed, I think there are lots of companies out there that are still completely unaware of just how effective gifting and giveaways can be in making a brand tangible. Those companies are going to love drawing on our experience and expertise for an awesome all-round gifting strategy which ultimately bears its fruit on the bottom line.
" That's why we're blazing a new trail – modern business is crying out for it. "
Does the prospect of breaking new ground with Clouberry excite you?
Most definitely! I'm so enthusiastic about the prospect, and I think that's a good omen that success may follow. If you aren't excited by founding a new company and following a new path, then you should be doing something else!
Aside from your excitement for the project, what makes you the ideal woman to lead this corporate gifting revolution?
I'm an entrepreneur, marketing manager and discerning aesthete through and through. I like to put myself in a company's shoes. This is the first step to understanding the right gifting strategy and hitting the right note. Then you have to take off your company hat and think from the recipient's point of view: what could excite and impress me? The ultimate goal is turning customers into fans. This demands a whole lot of sensitivity, experience, creativity and a finger on the pulse – and I try to bring all these things to the table.
You certainly have an extraordinary career path behind you.
So I've been told! After training in publishing management, I went on to found my first company aged 23, which I sold 10 years later to an international network. The network then made me the first female on the business and management boards of the holding. After time spent in marketing consulting, I then founded a startup before unexpectedly becoming a best-selling author (350,000 cookery books sold and counting!). Most recently I've been a startup scout and public speaker, as well as founding a PR agency with two partners. And now it's time for Clouberry.
But despite – or perhaps because of – all these different career steps, I'm still as curious and driven as ever. For me, critical thinking is an essential step on the road to creative solutions, and my hope is that I can infuse some of this spirit into the Clouberry DNA.
So why did you decide to focus on corporate gifts?
It all started when I founded a company called DerGugl in 2009, which was based on the idea of giving small praline-sized guglhupf cakes as a premium gift. They were primarily successful due to the novel concept, and though we didn't intend it that way, we were absolutely overwhelmed by corporate orders. Businesses loved having a new idea to play with and that got me thinking.
Funnily enough, my starting point then, as it is now with Clouberry, was asking myself the simple question: What would I love to receive?
" I asked myself the simple question: What would I love to receive? "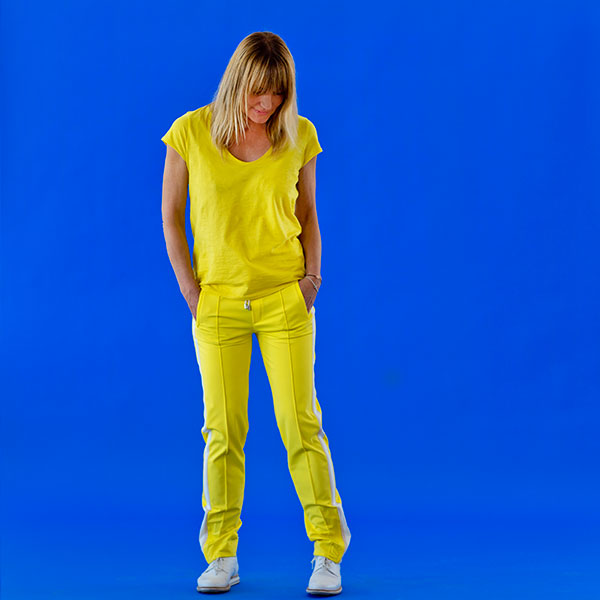 That sounds like a good starting point! Can you think of any corporate gifts you've loved in the past?
I got a wireless charger for my phone recently which I thought was a good idea. That is until it broke and I had to throw it away a week later. Sound familiar?! There really is just too much faulty or meaningless stuff in the world nowadays.
Otherwise, those ingenious plant pencils certainly spring to mind. They're pencils with plant seeds in the tip. When you're finished with the pencil, you stick the tip in the ground and plants magically emerge! Mine turned into basil. It really worked! That's why we had to get them on board for Clouberry – the perfect green gift for a sustainable corporate image. And guess what? I still know exactly which company gave it to me: Benetton. It just goes to show – great gifts live long in the memory.
Another one is the key finder. It's a small gadget that helps locate lost keys. It was pretty much made for me! It's so useful. So adding that to our range was a no-brainer, too.
You mentioned the charger. Have you ever had any other particularly bad gifts that stick in the memory?
Too many to count! One memorable example was at a huge corporate event where over a thousand guests were each presented with a fat giveaway bag at the end. As soon as they left the venue, most people took the useful items and discarded the rest. The street was littered with branded post-its, marzipan bars, pens, desktop calendars and even blow-up ducks carrying the company logo. I won't name any names, but let's just say that particular giveaway was memorable for all the wrong reasons!
The French revolution was famous for the words "liberté, égalité, fraternité". What three words would you use to lead the Clouberry corporate gifting revolution?
Disruptive, innovative, creative. It's not quite as catchy is it?! *Laughs* Ours will be a peaceful revolution, but one which will hopefully give corporate gifting a much-needed shakeup!
Start today & change how you make gifts.